Lee Nasehi, President & CEO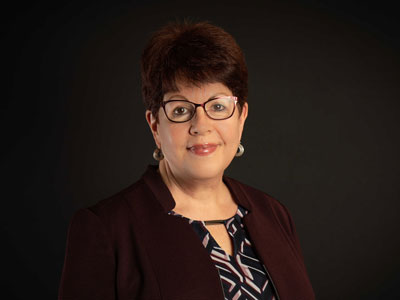 Lee Nasehi assumed the role of President and CEO of VisionServe Alliance on March 1, 2019. Previously, Lee served as President and CEO of Lighthouse Central Florida and Lighthouse Works since 2000. Prior to that, Lee had managed Early Intervention Services for Infants and Toddlers with Special Needs in the Florida Panhandle for five years, following a decade in the administration of Alcohol, Drug Abuse and Mental Health Programming in Central Florida.
Her leadership is that of a visionary, consensus builder, and nationally recognized leader in the field of vision-specific rehabilitation and employment for people with blindness and low vision. As the mother of a now adult son who is blind and has other disabilities, Lee's leadership has been fueled by personal conviction and a desire to empower individuals who are blind or visually impaired to live with dignity, independence, and fullness of opportunity.
Chief among her achievements to date, is the incorporation of Lighthouse Works, a nonprofit social enterprise subsidiary corporation with a double bottom line: employ people with blindness and low vision in competitive jobs while generating net "redeployable" revenue towards the fulfillment of its parent company's mission of living, learning and earning with vision loss. Its business lines included 4Sight360, a full service inbound and outboard contact center; Supply Chain Services (sourcing, fulfillment and light assembly); Contract Close-out; and Technology Services focused on accessibility and productivity solutions.
Lee has a BSW and MSW in Administration from Florida State University. She obtained her Certificate in Non-Profit Management from the Rollins College Crummer Graduate School of Business Philanthropy and Non-Profit Leadership Center and their Department of Social Entrepreneurship has recognized her as an Entrepreneur Member of the Rollins chapter of Sigma Nu Tau, the National Entrepreneurship Honor Society. Lee is an EOS (Entrepreneurial Operating System) Implementer.
She currently lives with her husband, Mehrdad, in Winter Park, Florida, and they are the proud parents of four children and two grandchildren.
---