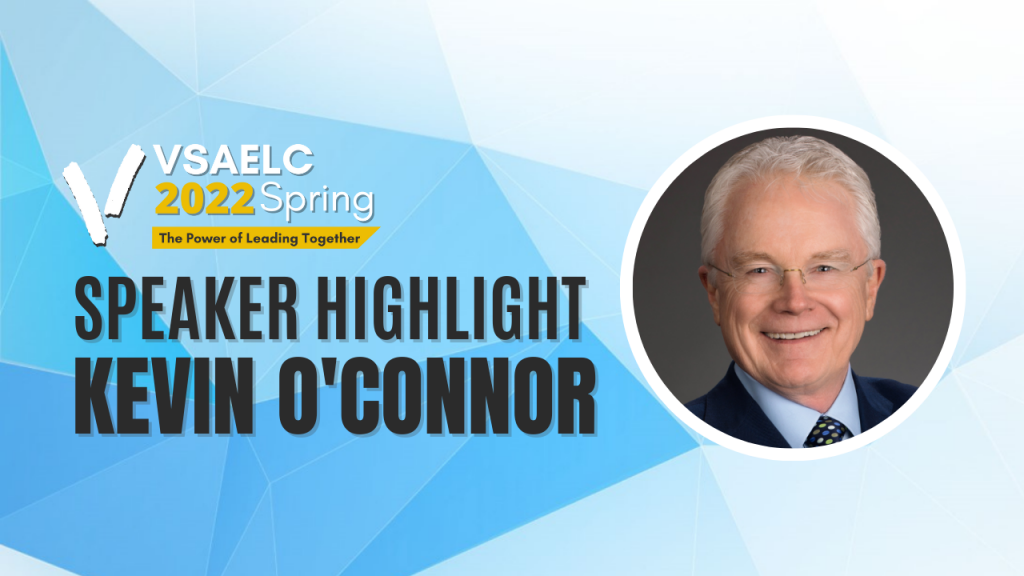 Click here to listen to Kevin O'Connor on the Voices of Vision Leaders Podcast
Meet Kevin O'Connor, the Master of Ceremonies for our Executive Leadership Conference (VSAELC) 2022. Kevin is a professor at Loyola University in Chicago and a professional speaker specializing in nurse and physician leadership.
He has Master's degrees in Education, Counseling Psychology, and Spirituality.
Close to Home
Kevin has been involved with the blind and visually impaired community since his son, now 33, was four months old.
"We were sort of drafted into this blindness movement," he said. "Since then, we've belonged to a club we never thought we would belong to."
He attributes much of his son's development to the doctor and services they visited throughout his son's youth, "It occurred to me how many people did not have those services."
Kevin was determined to give his son a life that wasn't different from other children's. When bringing him grocery shopping, he encouraged his son to bring his cane rather than hold his arm so that they could shop together.
"I think it started to give him more confidence in his skills," he said. Kevin's son has since graduated with a double major from George Washington University and has worked in several leadership positions.
What to Expect
Kevin is no stranger to the Executive Leadership Conference, as he attended the virtual conference after the Covid-19 pandemic made it impossible to gather in person. He will be opening the conference at the reception on the first night and is excited to meet the guests.
Kevin said that the conference is a place to learn more and lead better, not just by listening to the speakers but also by getting to know each other in the conference spaces.
"Our job in that very first time we're together is to say, 'Who can I meet?'" Kevin said. "Because they want to meet me too. We both have something we can exchange; we're both on level ground with one another." Hear more of Kevin's discussion with VisionServe Alliance and what to expect at the conference on the newest episode of Voices of Vision Leaders.
VSA's Executive Leadership Conference returns in person in beautiful Tampa this weekend! The 3-day event will offer opportunities to attend exceptional learning and networking sessions on topical issues, including specific learning tracks for CEOs, Programing, Fundraising/Administration, and Advocacy.
Learn more about the #1 conference to advance your professional development, organizational effectiveness, and more.