The Aging and Vision Loss National Coalition (AVLNC) is a consortium of leaders comprised of national, state, local, private, and public agencies with the goal of advocating for equal access and quality of life for older Americans with vision loss.
Access documents, links, videos and more in the AVLNC Archive
Committee Pages
Public Policy & Funding Committee
Access to Quality Services Committee
---
Aging and Vision Loss
The AVLNC has published a public awareness flyer/video regarding Aging & Vision Loss; a briefing paper that will provide a comprehensive overview of American incidence & prevalence, resulting consumer needs, the inadequacy of resources and the effectiveness of vision rehabilitation services; creation of the Aging and Vision Loss Theory of Change documents; development of "promising practices" for the delivery of remote vision rehabilitation services; establishing & growing relationships with several key national organizations in the aging network including n4a, GSA and NCOA. All of these documents can be accessed in the AVLNC Document Archive or read summaries of them below. View the AVLNC Document Archive
Our Focus
Informed by nationwide structured conversations with older people with vision loss and the expertise of the Coalition members, many with over 40 years of experience in the field, the Aging & Vision Loss National Coalition has focused on the following three key priorities:
Awareness: Increasing awareness among the general public, professionals, and especially seniors themselves and their families of the issues faced by older people with vision loss and the significant impact of professional vision rehabilitation services on sustaining their independence and dignity.
Funding: Enhancing funding for vision rehabilitation services including education, training, assistive devices, and technologies for older people with vision loss.
Expanding Personnel: Expanding the pool of qualified professional vision impairment specialists, through support for university programs and incentives for healthcare students to consider this specialty; and providing broad training for allied health personnel.
Each of our key priorities has a subcommittee to oversee its progress and development. Below are the chairs of those subcommittees:
Policy & Funding – Pris Rogers – AFB/VisionServe Alliance, Mark Richert – AERBVI
Public Awareness: Nancy Miller – VISIONS, Sylvia Perez – Mississippi State University OIB-TAC
Data and Research: Jacci Borchardt – Vision Forward, John Crews – Retired CDC
Access to Quality Vision Rehabilitation Services – Neva Fairchild – AFB, Elly du Pré, Florida ASB and AERBVI, Anisio Correia, Advocate/VisionServe Alliance
---
Theory Of Change
Losing vision later in life is an overlooked yet rapidly growing public health crisis, which has been exacerbated by COVID-19.
At least 12 million Americans over the age of 60 reports significant difficulty seeing resulting in reduced ability to engage in necessary daily tasks or activities they once found enjoyable. Accurately taking medications, getting groceries, cooking, reading mail, and other mundane chores can seem impossible without assistance. The current pandemic-related restrictions have intensified social isolation, loneliness, anxiety, and dependence resulting in the diminished physical and mental health of older people with vision loss. Without intervention, these devastating effects can have a lasting effect. Mounting evidence supports a link between vision impairment and risk for dementia and mild cognitive impairment. This correlation is particularly notable in women, and those with more significant visual impairment are at greater risk.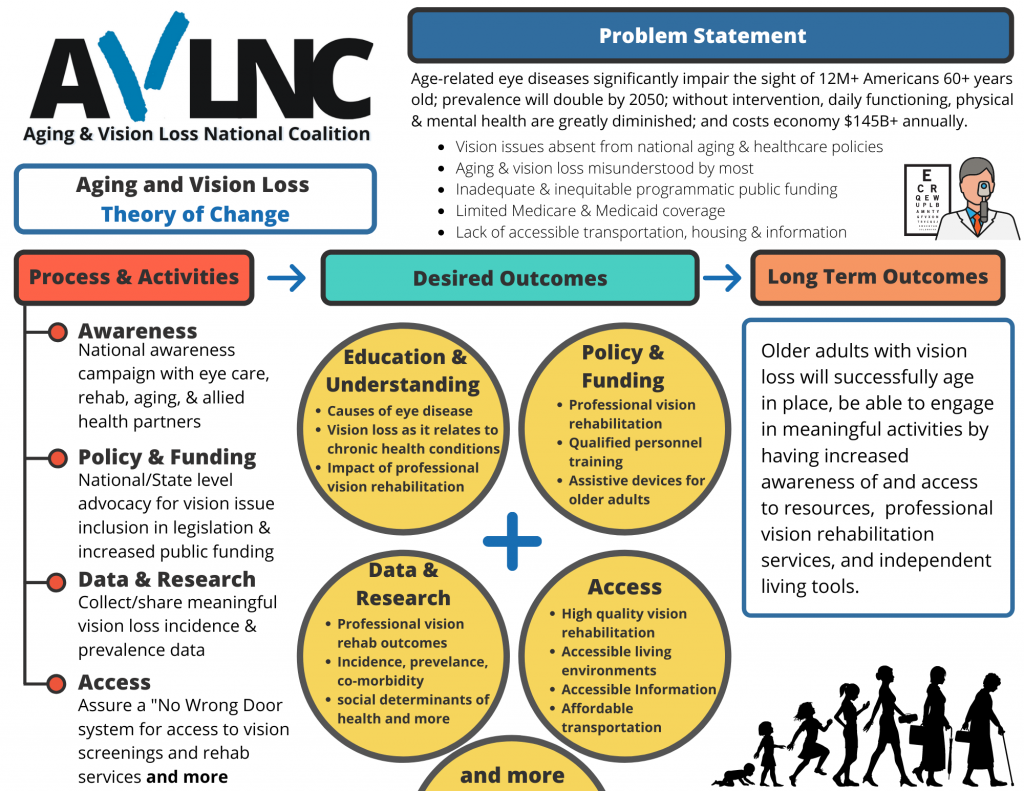 In order to be Effective, Policies, Practices, and Systems in Support of Older People Living with Blindness & Low Vision must be:
Included in social determinants of health acknowledging the unique risks of aging with vision loss
Developed in collaboration with experts & older people skilled in self-advocacy
Culturally competent
Equitably funded
Factors Contributing to the Problem
Barriers to older people with vision loss accessing tools and services necessary for living an independent, engaged and meaningful life include but are not limited to:
Vision issues are largely ignored in public policy; one important example is that vision loss and related issues are not mentioned in the Older Americans Act.
A dearth of understanding of age-related vision loss and corresponding professional interventions for older people amongst long-term care and healthcare providers, the aging network, and even eyecare professionals.
Severely inadequate public funding for vision rehabilitation services for older people resulting in inadequate numbers of qualified personal and readily available community-based services in many areas of the country.
Vision rehabilitation services, low vision, and other optical devices are not covered by Medicare and Medicaid.
Extremely limited funding for accessible technology and training on its usage.
Limited, inaccessible & unaffordable public transportation options.
Social determinants of health obstruct the timely and effective treatment of chronic medical conditions including age-related vision loss.
Read the full Aging and Vision Loss Theory of Change
---
Three-Year Target: by December 31, 2023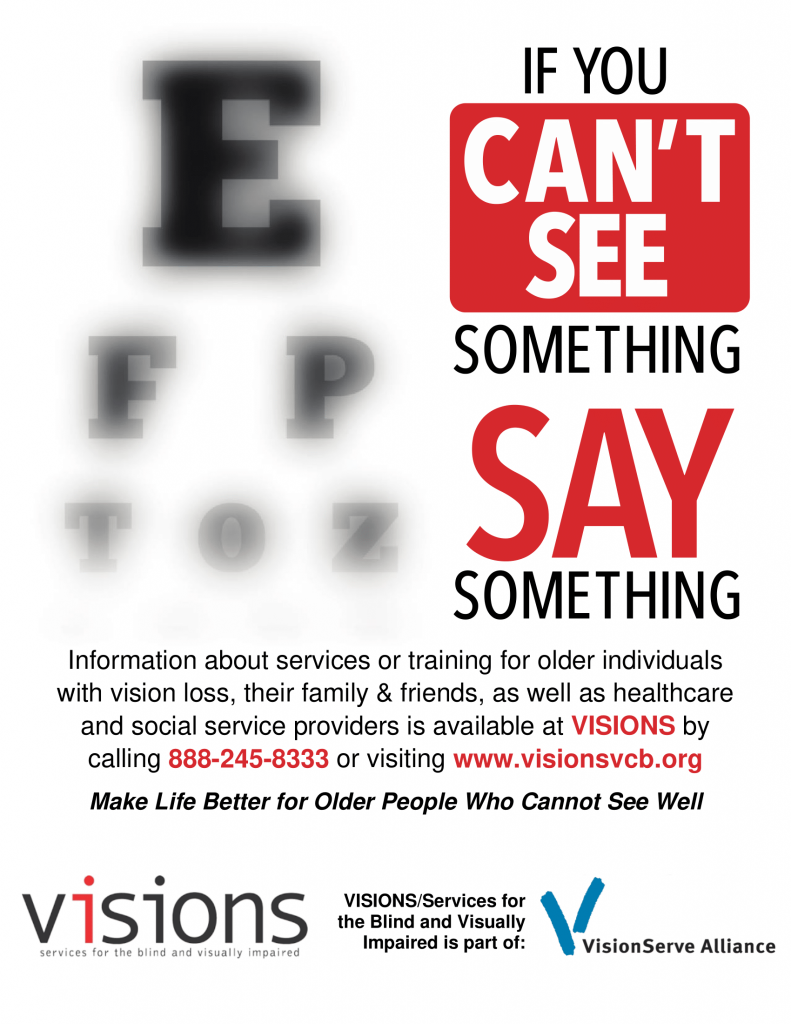 AVLNC will have strategic alliances with national partners and policy champions who agree to include aging & vision loss in federal legislation and other policy documents
The Surgeon General will issue a report on the Impact of Aging and Vision Loss based upon the recommendations that came out of the NASEM workshops
Vision-related research recommended by NASEM will be underway; some completed and in report status for Surgeon General consideration
A national interagency committee on Aging & Vision Loss will be established and meeting in a meaningful way (in accordance with the 2016 NASEM recommendations)
Older people with vision loss are included as a targeted population in aging policy, public health initiatives (i.e. Healthy People 2030), and health coverage
Eyecare professionals recognize that vision rehabilitation is a part of the continuum of care and appropriate referrals are made routinely
Older people with vision loss are trained & mobilized to advocate for policy change
Federal funding for older people with blindness and low vision will be increased; at a minimum, OIB Funding will be increased tenfold and regular cost of living increases thereafter will have been enacted
Other funding at state and local levels will be available and utilized by community-based vision rehabilitation providers
The field of Vision Rehabilitation will have adopted practice and program standards
Outcome measures will be collected routinely by vision rehabilitation providers and shared with research partners for the purposes of establishing evidence-based programs
Federal grants will be available again for the establishment of new community-based vision rehabilitation programs in severely underserved parts of the nation
University programs for eye care, occupational therapy, geriatrician & gerontology professionals will include aging and vision loss curricula and facilitate practicum opportunities in community-based vision rehabilitation programs; and those for vision rehabilitation will include specific aging curricula
Best practices for the combination of Aging & Vision Rehabilitation Services will have been established, rolled out, and accepted by both professional networks
Clinical data on eye disease/condition and acuity/specific vision loss will be routinely collected nationally and reported (including counting all older people with vision loss)
National Awareness Campaign on Aging & Vision Loss (based upon the Frameworks Institute recommendations) is funded, executed and adopted by the Ad Council and national partners
The National Policy Collaborative will have a joint legislative agenda on Aging & Vision Loss
---
AVLNC Represented Organizations:
Bonnielin Swenor, Wilmer Eye Institute
Cynthia Speight, National Council of State Agencies for the Blind
Clark Rachfal, American Council of the Blind
Elly du Pre, Florida Agencies Serving the Blind
Greg Donnelly, The Carroll Center for the Blind
Mark Richert, Association for Education and Rehabilitation of the Blind and Visually Impaired
Kathie Zeider, Academy for Certification of Vision Rehabilitation & Education Professionals
Kathleen Zuke, National Council on Aging
Kira Baldonado, Prevent Blindness
Lauren Branch, New View Oklahoma
Lee Nasehi, VisionServe Alliance
Matthew Haynes, AER Division on Aging
Mark Armstrong, Hellen Keller National Center
Mary Worstell, Independent Advocate
Melissa Allman, The Seeing Eye
Nancy Miller, VISIONS
Neva Fairchild, American Foundation for the Blind
Paul Schroeder, American Printing House for the Blind
Pris Rogers, Independent Advocate
Sylvia Perez, Older Individuals who are Blind Technical Assistance Center – Mississippi State University
Theresa Stern, Guide Dogs for the Blind
Virginia Jacko, Miami Lighthouse