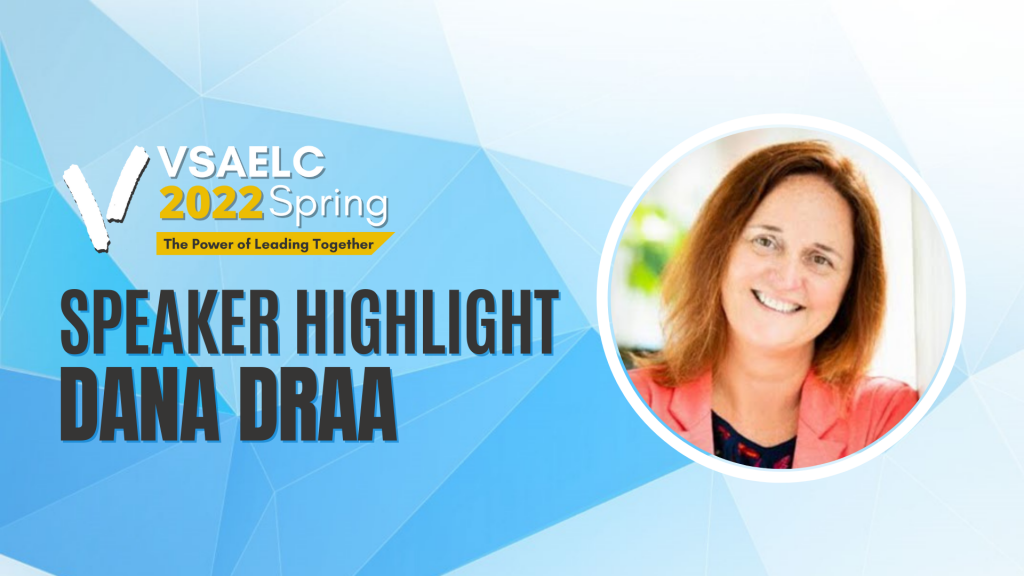 Meet Dana Draa, one of VSA's inspiring speakers for our Executive Leadership Conference (VSAELC) 2022. Dana is the Chief Program Officer for Metrolina Association for the Blind, Inc. (MAB), which provides services for blind and visually impaired people in Charlotte, North Carolina. 
Her career in the blindness field has lasted almost two decades. It has included positions as a Visual Impairment Services Team Coordinator for the Department of Veteran Affairs, where she case managed for over 300 legally blind and visually impaired veterans. She was also an Assistive Technology Consultant for the NC Division of Services for the Blind. She had extensive experience using assistive technology to help individuals regain independence after losing vision.
Expert in the Field
Dana earned her Masters of Arts in Rehabilitation Counseling from the University of Arkansas and her Masters of Arts in Counseling with a focus on Orientation and Mobility for the Blind from Western Michigan University. She is also a Certified Rehabilitation Counselor, O&M Specialist, Certified Adaptive Sports Specialist, has a certificate in Applied Positive Psychology and is currently studying to be a Certified Meditation Instructor. She is a Veteran of Desert Storm/ Desert Shield, having served four years of active duty in the United States Navy and three years in the Alaska Army National Guard.
After her service, Dana spent time helping her grandmother and step-grandfather, who lost his vision due to diabetes. She said, "I'd help him with his technology, and that was always fascinating for me."
She also volunteered as a reader for Services for the Blind in Florida while working towards her undergraduate degree in Criminal Justice at UCF.
Transcending Visual Art
Dana soon discovered how individuals with visual impairments wanted to participate in traditional activities, but due to accessibility limitations, that was not always a consideration.
"I made it a mission to ensure that events I was planning be exclusively for individuals with vision loss or be as inclusive as possible," she said. "Visual arts are just that. I started asking myself how we make them transcend vision alone and what can we learn from it?"
Dana learned and taught from these questions she asked herself. She taught how to describe ethnicity or color to someone who has never seen or "felt" visual art.
"The more we understand each other's perspectives, the more community building that is possible," she said.
One piece of advice Dana offers to others is not to be afraid to express oneself in a way that feels natural. Additionally, she suggests reaching out to creatives and artists in your community to learn new ways to get innovative. Finally, she recommends reaching out to local vision loss rehabilitation organizations to find the right tools to make things happen.
The Importance of Community
At VSAELC, she will deliver "Art is for Everyone," a how-to guide for partnering with local artists and community organizations to build relevant and innovative accessible art programming for your neighbors with vision loss. She will look at projects with the Bechtler Museum (No to Low Vision), Art Walks CLT, Van Gogh Immersive Experience, their impact, the nuts and bolts of how-to, and the importance of these opportunities for our communities in advancing equity. She will also emphasize the vital role AT plays in these ventures.
Join us in person in beautiful Tampa this spring! VSA invites industry professionals and leaders to provide service to or with people who are blind or have low vision to reflect on our industry's impact on society and share ideas for a transformative future. The 3-day event will offer opportunities to attend exceptional learning and networking sessions on topical issues, including specific learning tracks for CEOs, Programing, Fundraising/Administration, and Advocacy.
Attend the #1 conference to advance your professional development, organizational effectiveness, and more.