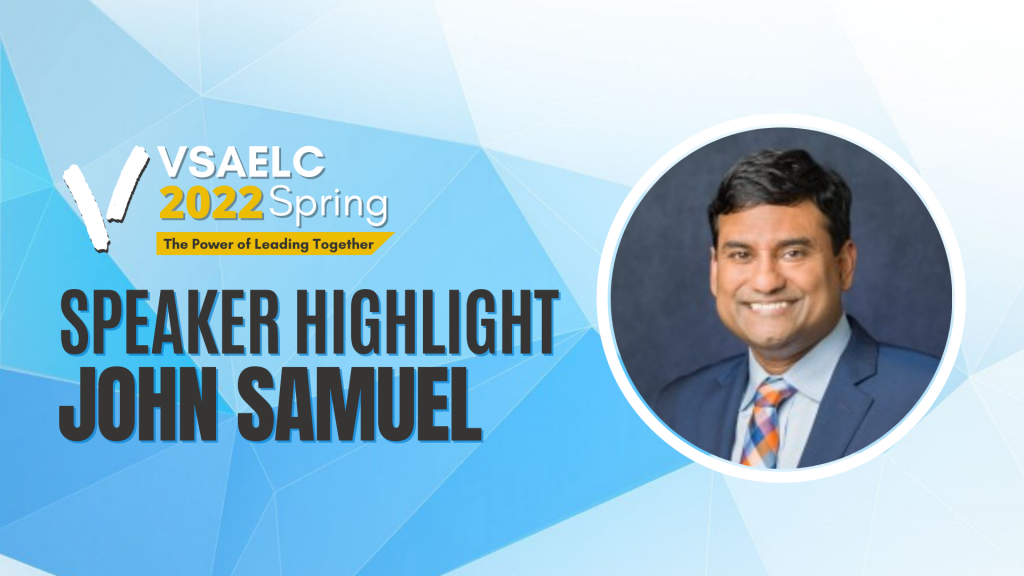 Click here to listen to John Samuel on the Voices of Vision Leaders Podcast
Meet John Samuel, one of our inspiring keynote speakers for our Executive Leadership Conference (VSAELC) 2022. John is the co-founder and CEO of Ablr 360, which assists companies in developing better inclusion strategies. Ablr focuses on removing barriers that have hindered people with disabilities from accessing education, retail, entertainment, and employment.
VisionServe Alliance recently sat down with John on a new episode of our podcast, Voices of Vision Leaders, to discuss his plans to bring to this year's Executive Leadership Conference.
Early Struggles
Much of what John Samuel and Ablr 360 work with is bringing assistive technology to employers and employees to reduce the effect that visual impairment can have in the workplace. John himself was diagnosed with retinitis pigmentosa, a rare degenerative eye disease in college.
"I was embarrassed and ashamed to tell people that I lost my sight," he said. "I kept it a secret."
After college, John traveled the globe, not to seek thrill and adventure but to seek a sense of belonging. He said he went around the globe because he was running away from telling people and trying to find workarounds.
While his early career in the US left him unable to build the team he was looking for, he found immediate success in his travels.
"To me, it was a necessity. I went to India because I knew I could get a car and driver for pretty cheap. I moved to New York City because of the public transportation. I moved to Africa because it gave me the opportunity to build a team around me."
Through the years, John became aware of more assistive technology that could help him expand his personal and business ventures and wanted to take that technology and inclusion to new heights.
The Future is Limitless
For John, he says assistive technology is life-changing but still has a way to go. "I think about AI (artificial intelligence)," he said. "Those technologies can be beneficial for us, but we also have to be careful about the replacement with AI of digital accessibility on a website."
John said people with disabilities have unique problem-solving skills and that Ablr is in the business of using technology to augment that. "The future is limitless for us," he said.
Belonging in a Diverse World
At the Executive Leadership Conference, John will present his keynote, "The Idea of Belonging in a Diverse World," which will expand on many topics he introduces in his episode of Voices of Vision Leaders. He will speak on diversity, equity, and inclusion and tell why it is more than race and gender. The audience will leave with an understanding of digital accessibility, its importance, and why proximity builds empathy.
Join us in person in beautiful Tampa this spring! VSA invites industry professionals and leaders to provide service to or with people who are blind or have low vision to reflect on our industry's impact on society and share ideas for a transformative future. The 3-day event will offer opportunities to attend exceptional learning and networking sessions on topical issues, including specific learning tracks for CEOs, Programing, Fundraising/Administration, and Advocacy.
Attend the #1 conference to advance your professional development, organizational effectiveness, and more.