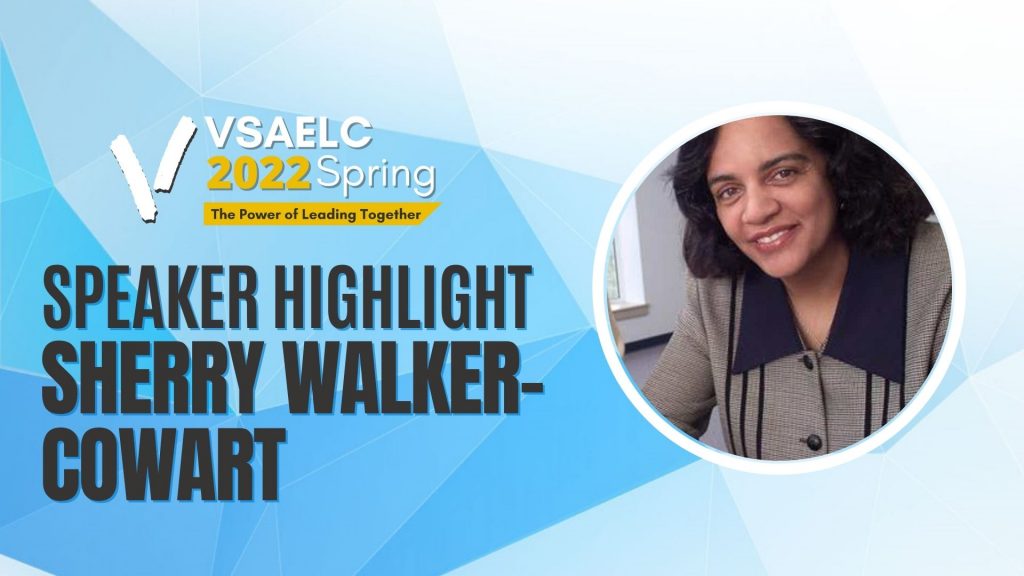 Meet Sherry Walker-Cowart, one of our inspiring keynote speakers for our Executive Leadership Conference (VSAELC) 2022. Sherry is the Senior Consultant for Ramerman Leadership Group, a team of certified professional consultants and coaches who provide leadership development and executive coaching for CEOs, executives, teams, and organizations.
Her career in leadership positions has lasted over 25 years. She has served as President and CEO of the Center for Dispute Settlement and the Community Place of Greater Rochester. She believes in the importance of continuous education and professional development and considers herself a servant/transformational leader.
Creating a Vision for Success
Sherry's relationship with the blind/visually impaired community started decades ago through a collaborative partnership. "As the CEO of a not-for-profit agency, we often hired individuals who were supported by our local Association for the Blind and Visually Impaired (ABVI)," she says. "Throughout the years, ABVI would become our go-to agency for ordering lunches for board meetings, staff retreats, and other small or large gatherings."
She knew firsthand the capabilities of those with visual impairments as she watched her grandson grow up. "He was born blind in one eye," she tells us. She admits that she unintentionally displayed ableism and often became overly protective but soon learned that his visual impairment was in no way limiting to the vision he had for his life. "He told me he discovered what he could do well and excelled in those areas. In his 20s, he is a successful engineer."
A Career of Service
Sherry has master's degrees from both SUNY Brockport and Keuka College and has spent much of her time since graduation dedicated to addressing social justice issues. She combines that knowledge with her experience in diversity, equity, and inclusion to discuss the link between them.
"Ableism and prejudice are two sides of the same coin. The focus of social justice is wealth, health, opportunity, and privilege. The link is access. Equitable access from every angle must be considered and addressed at first thought, inclusive of members from the focus communities."
For employers with a workforce of visually impaired individuals, Sherry says to think success. "Ensure workers have all the tools they need to be successful in the position. Model the way and demonstrate the belief you have in the workforce. Institute accessible ways of giving and receiving feedback from the workforce. Based on the feedback, pivot if necessary. Know their name and work with everyone to support their vision for growth in the organization and personally."
During her keynote, "The Importance of Envisioning a Clear Mission," Sherry will expand further on these topics, which she breaks down into Noticing, Struggling, and Envisioning.
---
Join us in person in beautiful Tampa this spring! VSA invites industry professionals and leaders involved in providing service to or with people who are blind or have low vision to reflect on our industry's impact on society and share ideas for a transformative future. The 3-day event will offer opportunities to attend exceptional learning and networking sessions on topical issues, including specific learning tracks for CEOs, Programing, Fundraising/Administration, and Advocacy.

Attend the #1 conference to advance your professional development, organizational effectiveness, and more.